Cynthia Hale
DISCLAIMER: PreachingWoman.com does not recommend, accept, or affirm ministry opportunities for the speakers listed in our speaker's bureau. Each speaker listed administrates and facilitates their own ministry opportunities. Please contact their ministry or website directly for more informtion or for booking purposes. PreachingWoman.com only administrates and endorses events sponsored by BreakForth Ministries and Consulting, Inc., parent Organization of PreachingWoman.com. When contacting any speaker in our bureau, please be prepared to provide references and credible history regarding your ministry opportunity.

DOWNLOAD SPEAKER'S BUREAU APPLICATION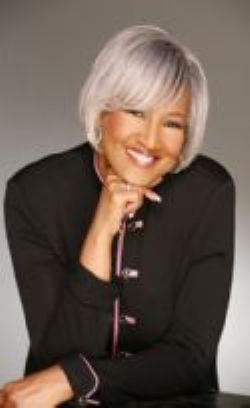 Contact Information
Rev. Dr. Cynthia L. Hale is the founding and Senior Pastor of the Ray of Hope Christian Church in Decatur, Georgia. The Ray of Hope Christian Church was honored by the 700 Club as Church of the
week and was also recognized in the book, Excellent Protestant Congregations: Guide to Best Places
and Practices, as one of 300 excellent Protestant congregations in the United States.
Dr. Hale is a native of Roanoke, Virginia. Her natural talent in music led her to study at Hollins College in Virginia, where she received her Bachelor of Arts degree. She holds a Master of Divinity degree from Duke University and a Doctor of Ministry from United Theological Seminary, Dayton, Ohio. Dr. Hale also holds five Honorary Doctor of Divinity degrees.
As a woman of vision, Dr. Hale is revered locally, nationally, and internationally for her leadership, integrity, and compassion. In 2004, Dr. Hale established a mentoring program known as Elah Pastoral Ministries, Inc. to assist in the spiritual as well as practical development of pastors and para-church leaders. In September 2005, she convened her first Women in Ministry Conference; a premiere, national conference with a focused mission to Develop, Coach and Mentor Christian Women in Ministry for the 21st Century.
As a member of various boards, Dr. Hale presently serves on the Board of Trustees at Hollins University, Interim Chair of the Board of Directors at Beulah Heights University, Chairperson of the Board of Directors for the City of Hope Ministries, Inc., and she was elected to the office of Assistant Secretary for the Hampton Ministers' Conference.
As a recipient of numerous honors and recognitions, Dr. Hale was inducted into the African American Biographies Hall of Fame and the Martin Luther King Board of Preachers of Morehouse College. Selected by Senator Barack Obama and the Democratic Party, Dr. Hale gave the opening invocation at the 2008 Democratic National Convention. She also served as Co-Chair for "Women in Ministry for Obama." Dr. Hale attended the Inauguration for President Barack Obama and read scripture during the Inaugural Interfaith Prayer Service, which was held at the National Cathedral. In July 2009, Dr. Hale was appointed by President Barack Obama to serve on the President's Commission on White House Fellowships. She is honored to be an active member of the Alpha Kappa Alpha Sorority, Inc.
Dr. Hale is a contributing writer for many books and publications including the book, Power in the Pulpit II: How America's Most Effective Black Preachers Prepare Their Sermons. In January 2010, she authored her first book entitled, I'm A Piece of Work: Sisters Shaped by God. Dr. Hale has been in ministry for 31 years. Her ministerial gift has drawn thousands, young and old, to witness the anointing of a woman totally sold out for the Kingdom of God. She has traveled abroad preaching the Gospel of Jesus Christ, sharing the "Good News" in Africa, Australia, Europe, the Caribbean, and South America. Dr. Hale is a woman on a mission to impact and transform this present world into the Kingdom of God.