Pastor Kim Davis
DISCLAIMER: PreachingWoman.com does not recommend, accept, or affirm ministry opportunities for the speakers listed in our speaker's bureau. Each speaker listed administrates and facilitates their own ministry opportunities. Please contact their ministry or website directly for more informtion or for booking purposes. PreachingWoman.com only administrates and endorses events sponsored by BreakForth Ministries and Consulting, Inc., parent Organization of PreachingWoman.com. When contacting any speaker in our bureau, please be prepared to provide references and credible history regarding your ministry opportunity.

DOWNLOAD SPEAKER'S BUREAU APPLICATION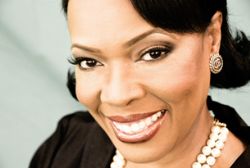 Contact Information:
Pastor Kim Davis
119 Wallace Avenue
Downigtown, PA 19335
Ph: 610-269-3499
Pastor Kim A. Davis, a native of Detroit, Michigan, has indeed been anointed to preach good tidings unto the meek. Predestined, called and appointed for such a time as this, she flows under the fivefold ministry gifts as apostle, prophetess, evangelist, pastor and teacher.
With the aforementioned scripture, Pastor Kim founded the Daughters of Judah Ministries in 1994, as she took heed to the voice of God. Through this evangelistic Ministry calling, she has literally spoken life into the lives of women all over the world. As a psalmist, her melodic voice has an anointing which destroys yokes and sets the captives free as she ministers in song.
In January 1999, Pastor Kim was awarded a degree of Honorary Doctor of Divinity by Jacksonville Theological Seminary. She is a management retiree of Ameritech (formerly Michigan Bell), where she served for 18 years, and has been a licensed cosmetologist for 33 years. She was employed for 5 years by the Full Gospel Baptist Church Fellowship under the leadership of Bishop Paul S. Morton, Sr. as Executive Assistant to the Office of Field Operations and Administrative Assistant to General Overseer Debra B. Morton, Full Gospel Daughters of the Promise for 10 years.
Pastor Kim has been the Pastor of Ebenezer Full Gospel Baptist Church in Downingtown, PA since 2006 and was named Pastor of The River of Life Church in Wilmington DE in January, 2011.
She is the mother of six children and four grandchildren, all of whom are active in the ministry.
We pray that you be blessed by the ministry gift of this anointed vessel of God, Pastor Kim A. Davis