Evg. Ruby Holland-Hutchins
DISCLAIMER: PreachingWoman.com does not recommend, accept, or affirm ministry opportunities for the speakers listed in our speaker's bureau. Each speaker listed administrates and facilitates their own ministry opportunities. Please contact their ministry or website directly for more informtion or for booking purposes. PreachingWoman.com only administrates and endorses events sponsored by BreakForth Ministries and Consulting, Inc., parent Organization of PreachingWoman.com. When contacting any speaker in our bureau, please be prepared to provide references and credible history regarding your ministry opportunity.

DOWNLOAD SPEAKER'S BUREAU APPLICATION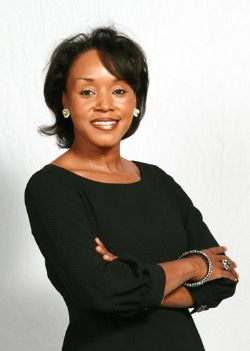 Contact Information:
P.O. Box 1554
Cordova, TN 38088
Office: 901-624-3133
Evangelist Ruby Holland-Hutchins is the wife of Pastor Dennis Keith Hutchins, a loving mother and amorous grandparent. Ruby is a native of Longview, Texas and received the Lord Jesus as Lord and Savior at a very infantile age. At eighteen, she began her evangelistic ministry and has served in full-time ministry for more than twenty-five years. She has had the privilege to share her ministry gifts with the precious people of the Lord on five continents including Europe, Asia, Africa, and North and South America.
Ruby is a member of the Greater Community Temple Church of God in Christ in Memphis, Tennessee where Bishop Brandon B. Porter, Sr. serves as senior pastor and presiding jurisdictional prelate.
Ruby is an active member of various community organizations. She earned a nursing degree in 1986. She founded Touch The World Ministries, Inc. in 1999. Touch The World Ministries is a global preaching, teaching, and community care outreach, committed to finding the need and meeting it, and finding the hurt and healing it. This mission is accomplished through workshops, seminars, scholarships, community drives and hands-on intervention and prevention ministry initiatives.
In addition to ministering the spoken word, she has had the opportunity to spread the gospel in song and has recorded with numerous renowned gospel artists. The impact of her soulful delivery of melodic expressions interfaces and defies a medical diagnosis of throat cancer, to which her life responds, "God is Raffa, my healer." Jackson Music Awards Inc., nominated her for a Mississippi Gospel Music Award in the category, Album of The Year by a Local Artist in 2002. She is the founder of H.Y.P.E (Holy Youth Praise Explosion) 2003.
Ruby emerges as a sought-after evangelist and conference guest, having been inconspicuously hidden and preserved for such a time as this. Her release comes in dynamic form with the unadulterated, uncompromised and undiluted truth of God's Word. She flows in a prophetic anointing and possesses an unusual ability to communicate the Gospel of Jesus Christ. Ruby intends to complete the assignment that God has placed on her life by doing the full work of an evangelist and making full proof of her ministry. Her objective is to touch the world with the transforming power of God's love, humbly yielding to the impenetrable mandate to touch and impact the lost and to reach the heart of God's children.
Ruby is indeed a rare jewel in the hand of Christ!