Sorines Lopez
DISCLAIMER: PreachingWoman.com does not recommend, accept, or affirm ministry opportunities for the speakers listed in our speaker's bureau. Each speaker listed administrates and facilitates their own ministry opportunities. Please contact their ministry or website directly for more informtion or for booking purposes. PreachingWoman.com only administrates and endorses events sponsored by BreakForth Ministries and Consulting, Inc., parent Organization of PreachingWoman.com. When contacting any speaker in our bureau, please be prepared to provide references and credible history regarding your ministry opportunity.

DOWNLOAD SPEAKER'S BUREAU APPLICATION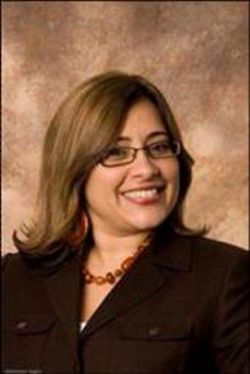 Sorines Lopez, pronounced "Sor-Ree-Ness," is quickly emerging as one of the newest, refreshing voices in the Kingdom, especially in the Hispanic/Latin American ministry arena, God uses Sorines mightily to share a practical, relevant, and invigorating Word to inspire those who encounter her ministry towards understanding that they are complete in Christ Jesus. With the expressed hand of God evident upon her life, Sorines, stands as an ambassador of Heaven to convey God's heart for unity in the Body of Christ.
Postured at the helm of Complete Ministries, a dynamic Christian ministry of Hispanic descent, Sorines endeavors to help bridge the gap between Spanish and English speaking churches through creating high-impact, cross-cultural, multi-ethnic worship experiences for God's glory.
With a focused mandate to reach families, God has gifted Sorines with a unique anointing to connect with people, especially women, from diverse backgrounds and bring them together upon the ministry platform to minister and worship the Lord in spirit and in truth. One of the forums God has given her to do this is through her annual Complete Women Conference, which has been based in Milford, MA, for the past 7 years. Although predominantly attended by Hispanic Christian women, the Complete Women conference is one of the first women's conferences of its kind where you encounter Hispanic, African American, Caucasian, and other ethnicities of women preaching and ministering to one another through the Word of God and in song. The atmosphere is charged with power as unified bi-lingual praise and worship is offered unto God As experienced translators interpret the Word of God from English to Spanish or vice versa.
Envisioned in 2005 and birthed in 2006, today the Complete Women Conference stands as an annual event drawing hundreds of multi-ethnic women from all over the nation. Countless testimonies of healing, freedom, restoration and salvation have come forth as a result of the mandate God has given Sorines concerning this conference. When people leave, there is no doubt that they are "Complete in Him!"