Pastor Kimberly Ray
DISCLAIMER: PreachingWoman.com does not recommend, accept, or affirm ministry opportunities for the speakers listed in our speaker's bureau. Each speaker listed administrates and facilitates their own ministry opportunities. Please contact their ministry or website directly for more informtion or for booking purposes. PreachingWoman.com only administrates and endorses events sponsored by BreakForth Ministries and Consulting, Inc., parent Organization of PreachingWoman.com. When contacting any speaker in our bureau, please be prepared to provide references and credible history regarding your ministry opportunity.

DOWNLOAD SPEAKER'S BUREAU APPLICATION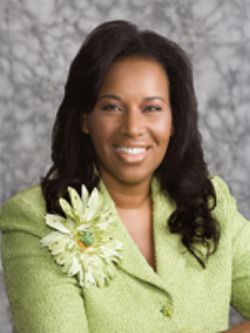 Contact Information:
ARM - Church On The Rock
4013 Lindenwood Drive
Matteson, IL 60443
708-503-1140 - Office
One of four daughters of the late pastor, Dr. Angie Ray (founder of Angie Ray Ministries "Church on the Rock"), Kimberly L. Ray now carries the torch passed on by her mother. The heart's desire of the Illinois-based pastor is to lead the church with God-inspired strategies and tools of empowerment to be effective in the ministry of intercession and deliverance.
For over 23 years, Ray has served as an evangelical speaker delivering messages that inspire, encourage, and effectively change the lives of those who embrace the word of God. Her passion for God and a surrendered lifestyle has led to an anointing to preach and teach the word of God with authority, revelation, and deliverance. Her insightful messages include sobering truths that challenge men and women to pray and cultivate their God-given potential in their personal, spiritual and professional lives.
Ray has served as an accomplished lecturer, gifted singer and songwriter. Her ability to motivate and uplift has given occasion to speak at universities, commencements, national conferences and churches all over the United States, as well as the West Indies and London, England. In addition, Ray wears the hat of producer for her 30-minute telecast, "A Time of Intercession," which airs on The Word Network and Total Living Network stations, reaching 140 countries and over 87 million homes. Ray is also the accomplished author of Prevailing Prayers of the Bible and her most recent release, Relentless Faith.
Ray has appeared on TBN's worldwide broadcast "Praise the Lord" as well as on The Word Network's "Rejoice in the Word," a faith-based talk show. Ray's face graced the cover of the 2008 May/June issue of the internationally distributed magazine, Gospel Today. Also, in the same year, Victory Theological Seminary proudly presented her with an Honorary Doctorate of Theology.
With a global following, which continues to grow daily, she has preached for such notable ministers and trailblazers as Bishop John Francis (London, England), Bishop Neil Ellis (Nassau, Bahamas), Apostle Richard D. Henton (Chicago, IL), Pastor Marvin Winans (Detroit, MI), Bishop I.V. & Dr. Bridget Hilliard (Houston, TX), Bishop Charles Blake (Los Angeles, CA), Bishop John Boyd, Sr. (Jamaica Queens, NY), Bishop Darrell Hines (Milwaukee, WI), Bishop Horace Hockett (Nashville, TN), Bishop Alfred & Co-Pastor Susie Owens (Washington, DC), Dr. Aretha Wilson (St. Albans, NY) and Pastor Shirley Caesar (Raleigh, NC), just to name a few.
Ray is fulfilling the legacy of godliness inspired by her late mother, in accepting the appointment to pastor Angie Ray Ministries "Church on the Rock" since June of 2006. Her fiery style and charisma are inscribed in all her endeavors and pursuits. She continues to be one of the most sought-after female ministers of the gospel. Above all, Pastor Kimberly Ray's love for the Lord Jesus Christ is constant and exceedingly great. Currently, she resides in the southern suburbs of Chicago, IL.