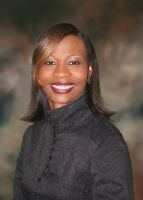 Marketing Your Ministry - Part 2
I believe, and am sure that you too will agree, that marketing your ministry with excellence is important. It really doesn't matter whether you are working with a small budget or none at all; it's still important, especially sisters, if you plan to represent yourself and the Kingdom of God well! Since I believe that's your goal, I wrote an article back in January suggesting how to do this excellently and economically when choosing a photographer for ministry pictures and a reputable company for professional business cards. To my surprise, many of you responded so well to that article that I decided to enlarge upon the subject even more. So for this month's issue, what I'd like to briefly discuss with you, is how to market your ministry by having a website!
Now, if you have already dared to venture out into this fast-pace, ever-changing, technological world and secured yourself a website, you deserve an abundant applause! As challenging as it might have been, you did it, and I'm sure you're reaping the rewards. On the other hand, for those of you who haven't done so yet (for whatever reason), know that I do understand, but yet I must share with you that you are indeed missing out on a true blessing. For starters, if ever there was a means to communicate to large masses of people all at one time, a website is it!
Truly, it is the single most viable way to get the Gospel out to millions of people as well as share with them on a global scale, what your ministry has to offer. It is through this effective tool that people everywhere and from every nation become exposed to your ministry, contact you for speaking engagements, stay abreast of upcoming services, purchase ministry products, hear inspiring sermons, share testimonies, and if desired, give charitable contributions to the ministry! In addition, on a local level, a ministry that has a website and utilizes it throughout the community will also experience the benefit of ministry growth; something we all desire. My fellow sisters, let me plainly ask, with all that a website is able to accomplish, can you afford not to have one? Furthermore, if you don't, is it possible to still achieve the same results without it being an economic burden? Selah.
Indeed, websites, as a means of communication, is one of our most valuable technologies today. One of the things I like best about them is that they are the one place on the internet where people anywhere can reach you and you can reach them on a continuous basis (without telephones constantly ringing). This is why I believe that every minister and/or ministry should have one: to keep people informed about their ministry as well as provide them with an opportunity to respond to it. Unfortunately, as much of a blessing a website can be, there are many ministers and ministries that do not have one. Usually I find that this is due to cost and/or time. If this is your reason for not having one, let me introduce you to a website that can help you.
For as little as $5 a month, www.Homestead.com can host your website. That's right! It's the perfect place for those of you who are computer illiterate, on a tight budget, and run a one-staff ministry, but still want a website that bears quality! What I found with Homestead is that first of all, building your own website is smooth and easy. Once you have chosen a name for the website (something simple and memorable) and are sure about what you want to say (if in doubt, leave it out), you can choose the templates that they provide and input the information. Secondly, they also offer you the opportunity to be creative with the colors and fonts on the webpages, add pictures and logos, allow readers to submit names to grow your email list, and most of all, to build your website with five pages, enough to have one with all the necessary components (home page, about the minister, about the church/ministry, contact info, etc.) Thirdly, and what I love most, is the time it takes to maintain the website. Since in every ministry most of what changes often is our calendar of events, I was overjoyed to find that editing the webpages was such a breeze. Now whenever I want to, I can make changes myself (without having to wait for a professional webmaster), double check it to see what it will look like before I publish it on the web and if necessary, contact someone from the website's company immediately if I get stuck! How's that for a professional and basic website for only $5?
You think about it as I close, but keep in mind, that the world has gone global in its technology and business affairs. So if you're going to do ministry in the 21st century, you must think global which means you must have a website. So go ahead and get out there and make your presence and your God known. Don't procrastinate, get your website today! And for those of you who already have one and need a change, are paying too much for what you have, or are tired of waiting for someone to help you, try Homestead, and while you're at it, check out my website and join our email list at www.greaterworksworshipcenter.com. Lastly, don't forget that people will want to contact you, so you'll need an email address too! Stay tuned for part 3 of marketing your ministry with excellence.
Blessings for a great 2008 - "The Best Year Of My Life"!
About the Author
Excerpts of this article have been taken from Hooper's Evangelist & Minister's Handbook, www.DeboraHooper.com.

Dr. Debora Hooper is the Pastor of the Greater Works Worship Center in Brooklyn, NY.

For ministry invites, questions and comments, reach her at debora.hooper@verizon.net or www.myspace.com/deborahooper