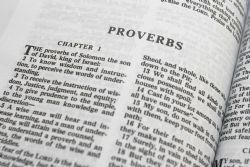 The Armor-Bearer - Important Backroom Etiquette
In serving your leader there are unwritten protocols that you must abide by. Even if your leader didn't sit down and explain these to you, they exist. Most leaders' prayers are that the armor bearers learn certain protocols in the School of the Spirit. Therefore, allow the Holy Spirit to sharpen you in your service. Consider some of the "Back-room Etiquette Rules" listed below:
1. Know when to leave your leader's presence
This practice is crucial. Remember, you are not your leader's peer. There will be times when you are serving your leader and he or she gathers with their peers (i.e. conference, meetings, roundtable, etc.). Unless instructed to remain, always leave your leader's presence when he/she is having discussions with their peers. Leaders often discuss leadership issues. Many times, pastors need to discuss with their peer's issues of other sheep in the flock in order to get advice. You [as the armor bearer] don't need that information. My belief, in this case, is the less you know, the better off you are. Why? Once you know something, you are accountable for it. You don't need exposure to certain things, you don't need to know another leader's weaknesses. It's not for you to be exposed to the difficulties a leader may be facing in the ministry. All of these exposures now create more points of prayer in your own life. You can't afford to share information or even judge someone because of something you've heard discussed that you should have never been exposed to. When you have the opportunity, run form these chances to be exposed. Unless you are nosy, you should not desire to be privy to certain information.
2. Share your opinion only when asked
There will be times when your leader will have discussions with others on a topic that you may know well. There will be subjects you may [possibly] know much more about than your leader. Even when this is true, you should not offer your advice without it being requested. You must defy the temptation that will come for to interject when you know a subject or topic that your leader does not know. There is nothing you have to prove to your leader or your leader's peer. Don't interrupt your leader's discussion with your own advice or counsel. If it is requested, then proceed. But if your advice or knowledge is unsolicited, override the temptation to speak.
3. Avoid the tattle-tale spirit
For some reason, there are believers that believe that tattle-taling is a sure way to promotion. Not true. Tattle-taling is a sign of immaturity. When you have difficulty safekeeping intimate issues that are revealed around you when you hear them because of the privileged of being around your leader in confidential situations, it's a sign that you are immature. I'm not talking about unethical [or immoral] things, but confidential things that leaders deal with in the ministry. Again, what you may become exposed to because you are in the presence of your leader is never to be shared with others. Often, a leader's confidentiality can destroyed by a tattle-tale spirit in the servant.
This is why I suggested earlier to avoid being in the presence of your leader when they are with their peers. It prevents you from becoming liable because you know too much.
4. Avoid self-promotion
As an armor bearer, you must remember at all times that what you [help] make happen in someone else's life will take place in your life. You have been called to help your leader. If you want to have a successful ministry one day, then [help] make your leader's ministry successful.You must flee the temptation of promoting yourself. There will be ample opportunities for yourself when the time is right. When you are with the man or woman of God, you will gain exposure. However, what you do with that exposure will make or break you.
I'll never forget one incident that happened years ago while I was serving in the capacity of an armor bearer. I was driving a guest speaker to the church for a conference that we were hosting. The guest speaker proceeded to ask me who my favorite speaker was. He seemed shocked when I responded, "My pastor is." Often, the man or woman of God will drop questions on you to expose your heart. An armor bearer with a strong soulish ambition will fail every time. Your heart must be towards the advancement of the one God has called you serve, not yourself.
The exposure that you gain from serving is not a time to promote yourself, your anointing or your agenda. Allow your servanthood to speak for you. Be known for your service. Elisha, at one time of his life was just known as the one who poured water on the hands of Elijah. The prophet Elisha was anointed and being groomed for the ministry. But when he was spoken to during the times of his serving as an armor bearer, he was known by his service not his anointing.
I have found that some of the following practices will successfully prevent you from walking in self-promotion:
- Don't carry your own business cards during ministry
- Never give out your own contact information (always the church information)
- Always talk about your leader [positively] and never yourself
- Listen twice as much as you talk
- Speak when spoken to (don't wrestle to demonstrate what you know)
- Remember, you have nothing to prove to anybody
5. Never Discuss your Leader's Weaknesses
Throughout the course of serving your leader, there will be weaknesses of theirs that will be revealed. The revelation of these weaknesses should never be used to harm the leader. Many times, your leader's weakness have been revealed to you for you to tag-team with God to intercede on the leader's behalf to eradicate the various weaknesses.
The most harmful thing you could do is to discuss your leader's weaknesses with others. If you imagine that you could earn brownie points with others by sharing your revelation or certain weakness existing in the life of your leader - you have been misled.
This is illustrated well in the story of Noah and his two sons. The Bible says that one saw the nakedness (weaknesses) of his father and spoke about it. Whereas, the other brother walked backwards and curved his father's nakedness. We are called to cover our leader's weaknesses and not broadcast them.
6. Never speak Negatively Speak about your Leader
There will be times that you may have disputes and disagreements with the one you serve. We all make mistakes. Therefore, there will be times that you may not agree with a stand that your leader takes. You have a right to disagree with what your leader decided does or say. However, you should not voice those disagreements to others. The principle says never complain down, always complain up. Most of the time up is your leader or God.
7. Never Speak Negatively about the Vision
There will be times in the ministry that you may not agree or even understand decisions that are made by your leader. You may not agree with the direction the ministry chooses to move in. There will be times God gives your leader a directive for the entire ministry and He does not even explain it to your leader why. Therefore, what makes you think you would know why?
The important issue here is that you're not to ever speak negatively about the vision that God has assigned you work toward with your leader and never complain about the vision. Fight for your leader's vision. Work hard towards the vision. Commit to the vision. Give your life to the vision. But never speak negatively about the vision.
About the Author:
Through his passion of God and his pursuit of purpose, Perry has ignited thousands of believers into greater levels of service in their local churches by causing a mobilization of gifts, talents and abilities in the body of Christ through strong impartations of teaching, preaching, training and ministering. Perry, a former associate pastor and teacher travels the globe teaching and ministering the importance of serving God and others. He is often used to train armorbearers, adjutants, associate pastors, and laypersons how to succeed by serving. He conducts very effective workshops for churches and has become a "pastor's friend" because of the assistance he provides for leaders by teaming with the pastor to mobilize their congregation. Article Source: http://EzineArticles.com/?expert=Perry_Mallory