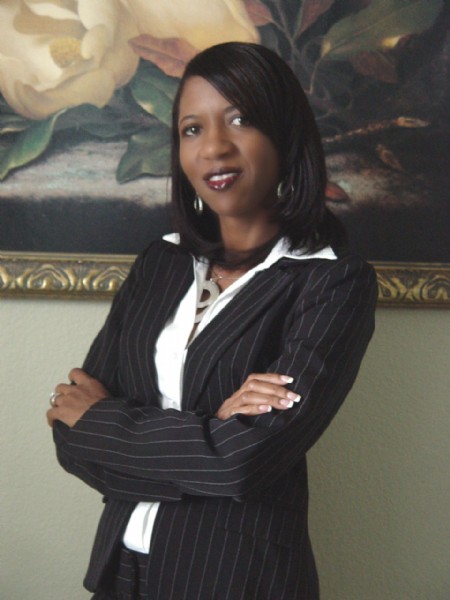 Prophetess Tarsha Campbell: Who Is The Woman In the Mirror?
Written by Nichelle Early, Executive Editor
Having watched your share of fairy tale movies, it is certain that you may have heard the old adage, "Mirror, Mirror, on the wall, who's the fairest of them all?" Sounds familiar? Well, fairy tale or not, in real life, this is a viable question that we should ask ourselves when we look in the mirror at ourselves, both spiritually and naturally. In fact, when you look in the mirror, who do you see? Do you see a woman that is fearfully and wonderfully made? Or, do you see someone that you find fault with, wish you could change, or feel saddened by? Do you see a woman that is free to live and enjoy her life? Or, perhaps you see a woman that, just like the four boundaries of the mirror, you feel boxed in and that there is no way out.
Well, today is a wonderful opportunity to really examine the woman, the real you, that is in the mirror. Whether you know it or not, there is a beautiful woman staring back at you that God loves and has created in his image, and He wants her to live a glorious life through understanding the identity, potential, purpose, and destiny He has placed within her!
PreachingWoman.com has solicited the help of Christian Life Coach, Prophetess Tarsha Campbell, to share with us regarding seeing and developing the real woman in the mirror in the image of God! She graciously accepted our invitation to be featured and celebrated on PreachingWoman.com, and we want to share her ministry with you!
Residing in Orlando, Florida, Prophetess Campbell is a dynamic and God-appointed woman of vision and empowerment, who is committed to helping others reach and fulfill their destiny. With the Master's hand and anointing evident upon her life, she has been given a specific mandate to teach people who God is and to help them understand their true identity in Him. Prophetess Campbell facilitates this assignment through the lenses of serving as a powerful Bible teacher whose teachings are practical and interlaced with prophetic insight; a certified Christian life coach; a published author; and a ministry and business consultant. In addition, she is the Founder, Publisher, and Principle Designer of DOMINIONHOUSE Publishing & Design, a publishing and graphic design firm dedicated to publishing the gospel with divine ingenuity and creative excellence. Prophetess Campbell is also the executive director of Revealed International Women's Empowerment Network, Inc., an organization dedicated to helping women unveil their God-given identity, potential, purpose, and destiny.
Coupled with the many assignments God has given Prophetess Campbell, she is faithfully submitted to the covering and leadership of Bishop Mark Chironna, Ph.D., pastor of Church on the Living Edge, located in the heart of Longwood, FL. She is also licensed by The Legacy Alliance, a growing network of leaders and workers in the church of the 21st century, of which Dr. Chironna is also presiding Bishop over.
PreachingWoman.com's founder, Rev. Evg. Nichelle Early, was honored to have the exclusive opportunity to speak with Prophetess Campbell (PC), whom many of you may be familiar with as the contributing editor of the "Coaching For Success" column on PreachingWoman.com, and would like to share the interview with you. This one will truly bless you!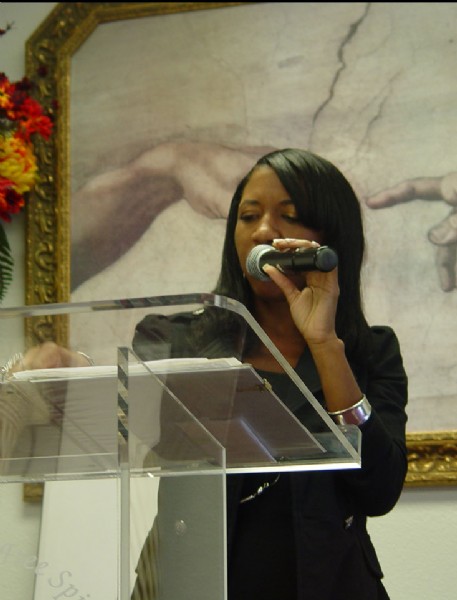 NE: Prophetess Campbell, I am so delighted to have the privilege to finally feature you on PreachingWoman.com! Thank you so much for sharing with us on today!
PC: Once again I want to thank you for choosing me, I feel extremely humbled and honored!
NE: Well, let's get started! One of the questions that I like to ask all of our featured Preaching Women is simply, "What is the vision, mission, or mandate, if you will, of your ministry?
PC: I believe the mandate that God has given me includes, among many things, helping women to come to know who God really is, and helping them to come to know their true identity in Him. It is so important that women come to know God as Father through spiritual insight of who He really is in the role of Father; through understanding their origin in Him and through understanding and fulfilling the destiny He has planned for them. My mission is to point them towards an understanding of four progressive areas:
Identity
Potential
Purpose
Destiny
Often times I've found that people want to skip right to destiny, but they are not familiar with or have not established themselves first, concerning their identity in God. They may not have even tapped into the potential that is on the inside of them that helps them discover and recognize their purpose, which helps them fulfill their destiny.
NE: Wow! That is so true...we hear the word destiny thrown around so much, but understanding our identity in Christ Jesus is paramount.
Well, let's do this: please share with us a little bit about each of those four facets: identity, potential, purpose, and destiny.
PC: Sure!
Identity- When we talk about identity, the main thing that comes to my mind is that we often times initially gain a sense of our identity from our environment and surroundings. And based on what we've been told by those in our immediate circle [family, friends, etc.], as we move out and grow older, we take on that which we have been told...but, when I'm ministering, speaking or coaching people, I like to bring them back to understanding the true essence of who they are, which originated in God the Father. The scripture that comes to mind is Matthew 16:13-16, when Jesus asked His disciples, "Who do men say I am?" And, many of them threw out various things, but Peter answered and spoke by revelation and said, "You are the Son of the Living God." He gave the true and accurate answer of who Jesus is. Therefore, when I'm ministering to people, I like to bring them to that point where they dismiss what they have heard or may have been told by society, especially the negative portions, which become negative recordings in the mind that keeps us from moving forward in God; but take them deeper and bring them to a place to encourage them to ask God to give them a true revelation of who they are in Him, because that's the premise from which you should build your life and move forward in Him and experience Him at a whole new level. This helps people to be able to accomplish all the things that God has set for their lives as they become grounded in the foundation of who God says they are.
Potential - During this phase, it's important that people come to a place where they are able to clarify what their core gifting(s) are. Also, not only their core gifting(s), but their signature talents; the things that you can do well naturally. It's all a part of their spiritual DNA that God has placed in them. I often look at this like a seed. During one particular message, I brought out an acorn seed. And, I explained that everything that this seed will become, the great oak tree that it is destined to be, is already confined within the tiny seed. So, everything we are destined to become is already on the inside of us, and it's based on us planting ourselves in the right place so that we can be nurtured and grow to our greatest potential.
We must come to a place of clarifying what our core gifting(s) are, because from them, our signature talents are manifested, which are the things we are good at and known for. For example, when I was a child, I was already making little booklets and writing, and now today, I'm publishing what God has given me and helping others...once you clarify your core giftings and signature talents, then you can move forward to gain the mastery in those areas by pursuing some type of training, college and higher education. Doing so will help you sharpen these areas so that God can use you effectively in any sphere he sends you, whether in ministry, on your job, or in the market place.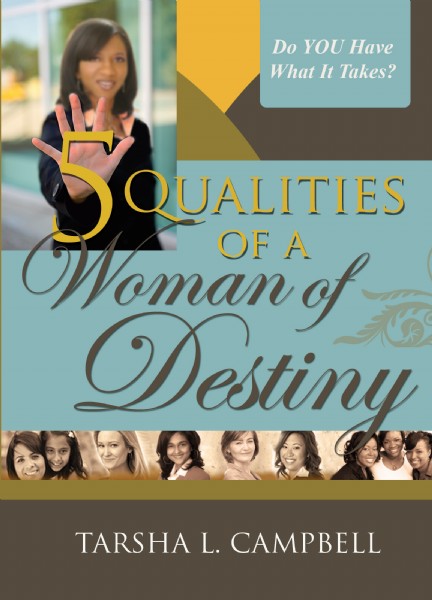 NE: That is so true and awesome! Now we talked about purpose earlier, sometimes people get purpose and destiny mixed up. What would you say the essential differences between purpose and destiny are?
Purpose - Purpose is God's core intent for your life, it is what He created you for. It's what He put you here on earth to do for His glory and on His behalf.
Destiny - Destiny is a specific time and space for you to fulfill the purpose of God for your life. In fact, the definition for destiny that God has given me that I have in my book [5 Qualities of a Woman of Destiny] is "A God appointed person, going to a God appointed place, for a God-appointed purpose, at a God-appointed time." And when there is a convergence of all these things, in other words, when you understand your identity, potential and purpose; and all of these converge in an appointed time, season and place, to me, that is destiny.
NE: Wow! That is probably one of the best definitions of destiny I've ever heard in my life!
Well, let's transition a little bit...You are known for a signature message that God has given you to minister and help women all over the world called, "The Woman In the Mirror," which has resulted into a series of 12 prophetic messages. Please share with us a little about that message.
PC: "The Woman In the Mirror" is a big part of the message God has given me. I've been teaching it over the last 13 years now, and it has become a signature message for me. And, what's phenomenal about how it came to be is that there was a particular group of women who would have a women's conference, and every year, they would invite me. Each year, God would give me a different segment to the original message in the series. As I meditated before the Lord, He would begin to show me prophetic visions of a woman standing in front of a mirror, and she would be doing some type of act. God began to show me that each act represented a state of mind, or some type of stronghold, that was holding me captive as it relates to my self-image or how I saw myself. So, He began to reveal to me through these different prophetic visions of the woman in the mirror, all the things that were keeping me from walking fully in my purpose and destiny; not only me, but the Body of Christ, which is considered a woman...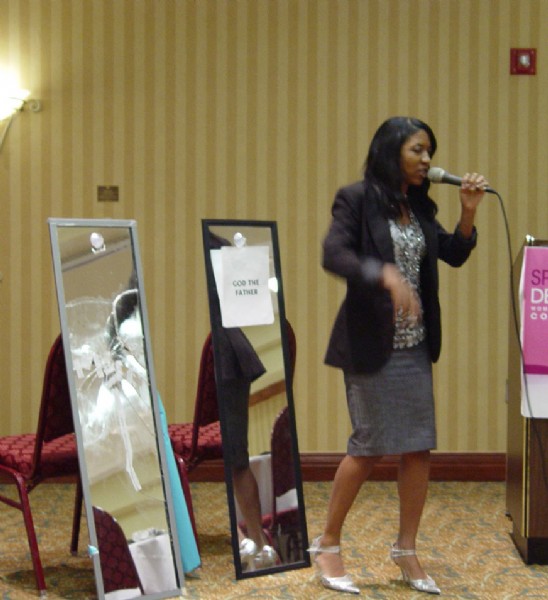 One particular message in the series that comes to mind is, "Woman In the Mirror: A Case of Mistaken Identity!" In this message God showed me how our self-image becomes distorted...similar to what we experience in a "house of mirrors" at carnival or fair. With each mirror you look into, you get a distorted projection of yourself based on what the mirror projects. Throughout our lives, just like in the house of mirrors, we encounter all types of mirrors that project an image that in turn shapes how we see ourselves and establishes our identity. These symbolic mirrors include our parents, siblings, family members, peers, society, etc. Sometimes, we receive good messages from these mirrors that represent the truth of who God purposed us to be. When this happens, we projected a positive self-image and have a healthy self esteem. However, on the flip side of that coin, if you and I have received negative messages, based on lies told to us, such as "you're too black", "you're too white", "you're not good enough", "you don't have what it takes"...and the list goes on and on, we end up projecting a negative self-image. This in turns leads to us having big issues in the area of self esteem...Let's fast-forward to the end of the message, God had me place on an actual mirror His name and Jesus' name. He then said that as we gaze upon Him and draw closer to Him in greater intimacy, He reveals our true identity in Him. When we allow this to happen we are changed from glory to glory...evolving into the "Woman of Destiny" He predestined us to be!
NE: Wow, Prophetess! This is such a powerful message. I understand you are writing a book on this right now! Please keep us informed when it is published so that everyone can purchase their copy.
PC: Yes, I will! The book should be available the first part of next year. I can't wait to share the powerful revelations that have radically changed my life and lives of so many others! God is up to something great!
NE: So what are three (3) principles that you would offer to women desiring to break free from a negative self-image and low self esteem?
PC: Well, I would say:
Come to place of really knowing God as a Father. I always go back to this, because everything we need or need to gain in Him in the area of our identity needs to trace back to the originator. God is our originator and creator.
Focus on establishing a more "intimate" relationship with Him. I'm sure you've heard this before, "In-to-me-u-see..." The more we draw closer to Him in greater intimacy the more He reveals Himself and the more He reveals who we are in Him. That's key, because sometimes we can become so busy doing ministry and doing Christian service, that we lose that whole aspect of drawing closer to God. For example, Martha and Mary. Jesus said that Mary had chosen the best thing because she chose to draw closer to Him. Even though what Martha was doing for the Lord was good, but He preferred intimacy.
Find yourself in a place of humbling yourself and accepting what God says He has for you without fear. Anytime God has called anyone to greatness, He told them to fear not. Fear can be a huge component in keeping us from drawing closer to God and seeking Him in a greater way to learn our true identity in Him and pursuing what He has called us to do. So, don't let fear dominate and paralyze you. Step out on faith!
NE: Wow! I really can't wait for this book to come! Based on what you are telling me now, it is going to be absolutely awesome!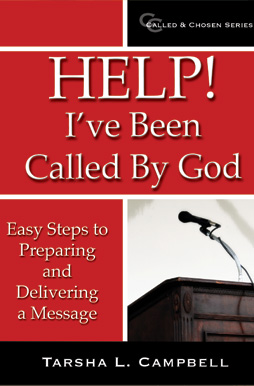 In fact, you are the author of several books such as, Called and Chosen: A Study guide to Ministry, Help! I've Been Called By God: Easy Steps to Preparing and Delivering a Message, and 5 Qualities of a Woman of Destiny. Please share with us a little about 5 Qualities of a Woman of Destiny!
PC: 5 Qualities of a Woman of Destiny is a book that God allowed me to write that showed me how valuable I was in God, and that I already had the qualities that I didn't think, or realize, I had in Him. The foundation of the book is based on Luke 1, regarding Mary, the mother of Jesus, whom I believe is the ultimate woman of destiny. God began to show me 5 qualities that she possessed that made her a woman of destiny. It started as a message that God had given me, and then He led me to turn it in to a book based upon my sermon outline.
NE: Speaking of books, please share with us about your publishing company, DOMINIONHOUSE Publishing and Design.
PC: Well, DOMININIONHOUSE was started about 19 years ago when I was a stay at home mom and I decided, through the leading of the spirit, that I was going to write my first book...However, when I took it to the printer, it was totally not ready in any way for publishing on a professional level. So, my husband told me if I was going to be serious about publishing books, I needed to go to school for it. So, I did, and I enrolled in several graphic design courses. As I continued my education, people began to ask me to help them publish their books, and so DOMINIONHOUSE became a viable publishing house.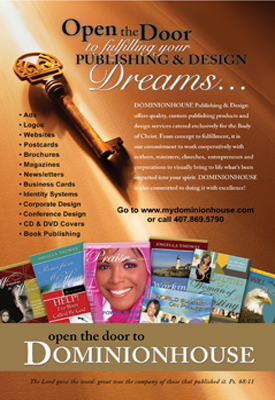 Our mission, at DOMINIONHOUSE, is to be a place where the Body of Christ will come to publish what God has given them. Our key scripture Psalm 68:11, "God gave the word and great was the company of those that published it." And so, we come alongside those who really feel that God has given them a word and help them publish it. Sometimes the larger publishers won't take everything, but there are many works that need to be in the market place...so we consider ourselves an outlet, and we come along side people to help them publish their works, which includes books, manuals, greeting cards, bookmarks, corporate identity products (such as business cards, postcards, etc.)
NE: Excellent! Now with all that God has charged you to do it is evident that you have a very close knit family and I know that they are very special to you. What role do they play in everything God has called you to?
PC: Well, my family is a very important support structure in all that I do. We are a strong and mighty team! I really love my family, because they have always been very supportive in everything God has called me to do, especially my husband. In no way shape or form has he ever said, "No you can't do this or that." He has always been very supportive. In fact, when I met him, I was already working in ministry. So, I feel that having his support makes my job easier, because when I have to go into different territories or regions, having him as my prayer covering is paramount. And my children, when they know I have to minister, or meet a business deadline, they allow me to have the time necessary to be with the Lord, or accomplish the task at hand and then once it's done, I just step back into my role as their mom, which I love!
NE: Well, I want to ask you one of my favorite questions: "What do you believe God is saying in this hour?"
PC: I really feel that God is saying that we need to come to a spiritual awakening and understanding of the power and the authority that He has given us as His people. I believe that God has given us all a metron, which is a Greek word that means a specific assigned position of jurisdiction and authority where God's power and authority will be most effective...we can spend years working in a particular area, with a particular group of people, but that may not be our assignment. But, when we are able to tap into exactly that God-delegated place of assignment, influence and authority, then we are able to flow on God's behalf and be effective.
NE: Amen! Well, that's all for now folks! So, here's a final blessing to all the ""Women In the Mirror" who are being changed into the Father's glorious image: "May we strive to embrace our true God-given identity and be all that God has called us to be in our specific assigned positions of jurisdiction in order to fulfill our destinies for God's glory!