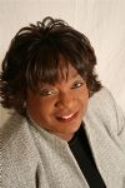 Dr. Paula A. Price: Bringing Home a Win for the King!
Written by: Nichelle Early, Executive Editor
Have you ever asked yourself, "Who Am I?"Ever wondered, "Where am I going? What am I called to do?" Well, you are not alone. Many of us have asked these same questions, and more, as we have contemplated our roles concerning family, our jobs, ministry and overall, the Kingdom of God. For decades, we as believers have turned to innumerable sources to resolve these questions, often still left pondering. So, can these questions really be answered? If so, when and by whom?
Well, today we are delighted to confirm that yes these questions can be answered! Not only can they be answered, they will be answered, right here and right now!
PreachingWoman.com™ was favored with the exclusive opportunity to speak one-on-one with one of the most influential apostolic and prophetic voices of our time, Dr. Paula A. Price. She gallantly accepted our invitation to be featured on our site to share with us how she personally answered these questions in her own life. Dr. Price also provides prophetic insight to how you too can find your own personal resolution to these questions!
Now, in case you have not encountered the astonishing ministry of Dr. Paula A. Price, let us introduce you.

Dr. Paula Price is prodigiously recognized as a modern-day apostle with a dynamic prophetic anointing. Since 1985, God has been using Dr. Price in active full time ministry explicitly impacting and transforming lives all over the world through her wisdom and revelation of God's Kingdom. Postured confidently in the call of God, Dr. Price has founded and established three churches, an apostolic and prophetic Bible institute, a publication company, a consulting firm, and a global collaborative network linking apostles and prophets together for the purpose of kingdom vision and ventures. Furthermore, God has intricately positioned Dr. Price as steward over one of the most progressive international itinerant ministries to date.
So, in view of all of these exceptional accomplishments for the glory of God, PreachingWoman.com™ asked Dr. Price to share with us how she recognized her calling to the apostolic and prophetic offices. Here is what she revealed.
"My entry into the prophetic began when God changed how He was speaking to me after I had been in ministry [for] about five years. Having become comfortable with hearing His voice and saying what I heard, I learned about that time that what transpired between us was considered the prophetic. The ongoing communications continued to enlighten me and in 1992 I wrote, Constructing the Contemporary Prophet. As I wrote it, I really did not recognize myself as a prophet. It was the research and study needed to complete that book that taught me that my anointing went beyond a spiritual gift. Finally, a series of experiences with God confirmed that I had a prophetic calling," said Dr. Price.
Historically, pertaining to the call of God, many women have and still do struggle with being accepted by their male counterparts in ministry. The conflict, at times, particularly increases when they declare they are called to the apostolic and prophetic offices as traditionally, these roles have been seen as primarily male predominant offices. Consequently, through ages of gender bias, scores of women have courted indifference regarding their calls to serve God, often leading to uncertainty about their calling, with many of them abandoning God's call altogether. We asked Dr. Price what encouragement could she offer women in these circumstances and she said:
"First and foremost, God likes women. He does not have a problem with women. In fact, He refers to His church as His bride. Salvation did away with gender differences and therefore, if [God ] called a woman to be a prophet, then they are a prophet. The same is true for the call to be an apostle," said Dr. Price. Furthermore, she emphasized, "A call to ministry means a new identity has to settle in. Women above all need to identify themselves as capable servants of Jesus Christ. Once God establishes who you are, then you must decree and declare it no matter what those who oppose you say. I accept and affirm myself as an apostle. And, with conviction I declare and behave as if that's who I am and what I am."

As a former sales and marketing executive, Dr. Price ministers to diverse audiences around the world. She combines entrepreneurial and ministerial applications to illustrate the skills and abilities necessary to take kingdoms for the Lord Jesus Christ. Noted as a compelling lecturer, profound teacher, curriculum developer and dynamic business trainer, Dr. Price globally consults Christian businesses, churches, schools and assemblies. Over a twenty-year period, Dr. Price has developed an exclusive curriculum to effectively train Christian ministers and professionals, particularly the apostle and the prophet. Her programs are often used in both secular and non-secular environments worldwide. Noticing education to be paramount in all of her endeavors, we asked Dr. Price to share with us precisely what God has purposed her to do regarding education in the body of Christ. Here is what she explained to us.
"The Lord sent me to teach His people how to know Him as He is, and that means education. Education is the only sphere of society that every member has to go through, besides the family. With teaching people to know the Lord as He is, my biggest passion is to bring legitimacy and credibility to the offices of the apostle and the prophet. My work and efforts are to define and demonstrate the validity of these offices to reduce the number of people still trying to resist them,"said Dr. Price.
Although Dr. Price has written over twenty five books, manuals, and other course material on the apostolic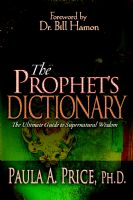 and prophetic, she is most recognized for he unique 1,600-term Prophet's Dictionary, a concise prophetic training manual entitled Church Prophets, and her most recent releases, Divine Order for Spiritual Dominance, a tool for five-fold ministry, and Eternity's Generals, an explanation of today's apostle. Intrigued by her diverse accomplishments, we asked Dr. Price to share how she managed to know God's direction and undertake so many endeavors in such a short period of time. She intimately shared these thoughts with PreachingWoman.com™.
"Everything should be done in season. Very few things demand equal attention at equal intensity. We must be attuned to God's seasons. I am able to accomplish multiple things because I am happily co-dependent on the Holy Ghost, [I] schedule my projects, and budget my resources according to the Lord's seasons. In addition, I love to train people to run with my vision, which increases my productivity. Also, to the credit of those that support me, I have a very strong ministry staff,"Dr. Price said confidently.
Amid all the remarkable accomplishments Dr. Price has attained, she shows no signs of slowing down. God has given her many more undertakings to fulfill this upcoming New Year. In light of this, we asked Dr. Price to share her heart regarding what God is saying for 2008 concerning women in the body of Christ and here is what she declared:
"God is saying, grow up. It is time for His people to mature in Him. He wants us to present a balanced view of whom and what He is, and maturely tap into His resources to attract and win the lost of this era. Only with maturity can we hope to establish His goals of unity and effectiveness in the Body of Christ. God wants His women to be free to take part in this so that He can truly present a unified kingdom. Concerning His women in ministry, the Lord says, "I will do great things for them too."
Additionally, Dr. Price offered these tips of advice.
"Give up your old man. You must cast off old paradigms. Because every new thing starts in the womb of the old. Sometimes, it takes a while to distinguish what is new about you from the old. Stay with the Lord and stay focused and you will see it. ¦It is often the case when you're new, that sometimes people don't understand you because they only understand what is familiar. Stay your course and pursue God's plan, and they will eventually recognize in you the new thing He is doing" Dr. Price professed.

"Study to show yourself approved.

It is important to give yourself to reading, studying, and living the Word of God. The one thing people from all walks of life are seeking today is the wisdom of God. Traditionally, that has come from the church. This generation needs to maintain its legacy of dispensing God's answers to a lost and dying world," declared Dr. Price.

"Balance your sentiments and emotionalism with intelligence. In other words, add logos to your rhema. To be respected, women must refuse to manifest the stereotypes in professional ministry," said Dr. Price.

"Start valuing other women in your peer group. Be there for your sisters, support their ventures, and celebrate their successes. Show the world that women too can be a united force. God is calling women to be 'Women of Dominion,'" Dr. Price stated.

Ensure that there is a cohesive interlocking of all ministry groups. There is no replacement theology in the Body of Christ. Avoid implying that female liberties include replacing the men's role in the body of Christ. It is my passion to see to it, that all women reach their full potential in the Kingdom and take their place beside their male counterparts demonstrating God's fullness," Dr. Price proclaimed.
Beyond the pulpit, Dr. Price is the influential talk-show host of her own program, Let's Just Talk: Where God Makes Sense. She brings the pulpit to the pew, applying God's wisdom and divine pragmatism to today's world solutions. Dr. Price says that her passion is ultimately for God's will to be done. It is important to her to "bring home a win for the King."
In addition to her incalculable experience, Dr. Price has two doctorate degrees with emphasis in Ministry and Religious Education from Word of Truth Seminary in Alabama. She is also a wife, mother of three daughters, and the grandmother of two. She and her husband, Tom Price, presently pastor New Creation Worship Assembly in Tulsa, OK.
When asked by

PreachingWoman.com™

what she sees her ultimate accomplishment in ministry to be, Dr. Price gleefully expressed, "I live and exist to bring home a win for the King in all that
do."