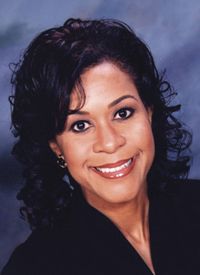 Rev. Janice Davis Steele,

J.D

.: I Am What I Am!
Written by Nichelle Early, Executive Editor-in-Chief
Have you ever experienced a gnawing feeling on the inside that maybe you were missing something out of life? You know, that feeling that life was full of opportunities, but somehow you have not tapped into all the possibilities that exist for where you are trying to go? Well, someone once said that people become the sum total of what they've confessed over the years. So the question is, "what have you said about yourself? What has your words and thoughts allowed you to become?"
PreachingWoman.com garnered the exclusive opportunity to speak one on one with Rev. Janice Davis Steele, J.D. She agreed to share with us a few principles that have aided in her personal journey of discovering the matchless power of confessing God's Word and experiencing His grace, and she wants to share them with you!
A woman of beauty, grace, integrity, and courage, Rev. Steele is a wife, mother, attorney, minister, conference speaker, and author - and, she does it all by the grace of God. Exuding a confidence and command in the Word of God that emanates freshness and practicality, God uses Rev. Steele to unravel the mysteries of His Word. She delivers relevant and relatable insights and principles that, when applied, are totally life-transforming for the mature believer and exhilarating for the new believer, causing them to break forth into a life of total transformation and triumph. However, Rev. Steele will be the first to tell you that life has not always been triumphant for her. There have been many personal struggles along the way that forced her to seek and understand the necessity of depending upon and confessing the Word of God.
As the youngest of five siblings, Rev. Steele learned early on that life can deal you some blows that do not discriminate based upon age. Reared by parents who emphasized education, she watched as her parents struggled to send her older siblings to college. However, by the time her turn came, there was no more money. Worse yet, her mother was extremely ill and the family was focused on getting her better.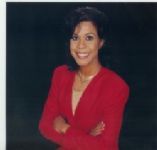 Having accepted the Lord at the age of 13, Rev. Steele believed that God would make a way for her to still go to college. She knew that the possibility existed, but she had to find a way to tap into it. She recalls confessing out loud, "God is going to get me through college." With no guidance for applying to college and completing college applications, Rev. Steele did all she could not to stagger at the promises of God, because at that point everything in her life and surroundings dictated that she would not go to college. Nevertheless, she did the only thing that she knew to do; she went to the Word of God to find a promise. "You have to believe what God has said even if everything says otherwise," said Rev. Steele.
PreachingWoman.com's founder, Nichelle Early, facilitates a candid interview with Rev. Steele regarding her life's journey and draws upon the profound well of her wisdom. So relax and lean in close, this is going to bless you!
NE: Rev. Steele, as you know, sometimes life's circumstances can get so tough and look so bleak that it's difficult to believe. How does one get over their doubts and continue to believe?
RS: That's a good question. There were periods in my life when I didn't know who I was or what I could become because I had received, believed, and embraced information that was incorrect. There were statistics, history, experiences, and things spoken by others that encouraged me to accept information that totally conflicted with God's Word. Once I decided to learn what God had to say about me, I was confronted with challenging choices: to believe God or believe the other information I was receiving. We all have the ability to choose. We can believe whatever we want. But, if we ever decide to exercise our faith and believe what God has to say, things will operate in the realm of the spirit, and the Holy Spirit will operate on the inside of us to confirm God's Word. Things will start to happen to cause us to actually experience what God has declared. So, the important thing is that we choose to believe what God says no matter what.
NE: Yes, indeed!
RS: You must believe before you see anything…The ability to believe is contained in the area of the soul, that's where the will is. Once you exercise your faith and choose to believe what God has declared, you supernaturally connect with God's grace. We gain access by faith into God's grace [Romans 5:2 NIV]. We connect with God's power, His anointing, and His divine contacts-so much so that things we could never have done on our own begin to happen!
NE: Wow!
RS: You see the world bombards you with false information, and tries to force you to accept it as truth. God is gentle. He presents to you His truth and His ideal for your life and He allows the individual to make the choice. So we must choose to believe. You must take God at His Word and confess it. And, not only confess His Word, but obey His Word.
NE: Now, how do you test what you've confessed?
RS: If you think you may have received a Word or instruction from the Lord, and if it is consistent with the Word of God and what you are confessing and believing God for, then you move in that direction.
NE: Absolutely!
RS: When you move in the direction of what you believe God has said one of two things can happen: 1.) You learn His voice. 2.) You learn what is not His voice. But, either way, you are learning. I would rather try and fail than to not try at all…
NE: Now that is awesome!
RS: Glory to God!...When you learn His voice, you understand how God talks to you. You begin to understand God's language of love for you.
NE: Wow!…Well, let's talk a little bit about your career. Did you become an attorney first or a minister?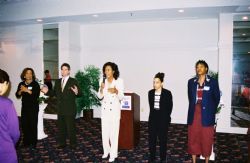 RS: I was practicing law, and then I became ordained. However, I have been teaching the Word of God since the age of 18. I told the Lord at that time, "Whatever door you open, I'm going through it!"…So while I was at college at Carnegie-Mellon University [Pittsburgh, PA] I had started attending Campus Crusade for Christ meetings for only about three months when I was asked to teach weekly Bible studies on the campus. Later, when I went to law school at the University of Michigan [Ann Arbor, MI], I was asked to teach at the local church I was attending. Everywhere I went, without asking, I was asked to teach.
NE: So, that teaching anointing was evident upon your life?
RS: Yes. And after I became an attorney, people would always ask me questions about the Bible. My clients would ask if I would do Bible studies and a lot of people started coming. So I enrolled in Bible College [World Missions Ministries Bible College and Seminary, located in Clinton, MD], because I wanted to make sure I was explaining the Word of God properly. After only two years, I was asked to be an instructor at the Bible College where I was attending. Once again, I was asked to teach without me asking. By now, I knew I had a greater call. And then later, the founder of the Bible College met with me and told me it was time for me to be ordained…
NE: Excellent! So how important do you deem the gift of teaching to be to the Body of Christ?
RS: Teaching is crucial to triumphant living. It's wonderful to be introduced to the person of Jesus and to hear the rousing rhetoric of preaching, I love it! However, it is essential to teach people the principles of the word of God for everyday living. It is important for them to understand what to do when, and how to prevent things from occurring. This comes by teaching. If people are not equipped, they will perish for the lack of knowledge. What's the point of having a zealous army if the troops do not know, or have not been taught, how to use their weapons and ammunition? Therefore, it's important never to undermine or lessen the importance of teaching.
NE: Wow, that's an excellent point. OK, so please tell us a little bit about your ministry, Triumph in Christ.
RS: Ok! Triumphant living is what God wants for us. God gave me Triumph in Christ [from 2 Corinthians 2:14] as a metaphor of how He has been in my life and of what Jesus expects of us. When Jesus died, His triumph became our triumph. And, so I believe that I have been raised up to assist the Body of Christ in applying the principles of the Word of God in order to help others walk in total triumph. We seek to use every means possible to minister the Word of God so that people can experience total transformation and total triumph. We teach that no matter what the problem is there is an answer in the Word of God and they can be triumphant. To me, triumph means, "You don't just get even, you get over! You get over and above all you can ask or think."
NE: Amen! I receive that! I felt the presence of God when you said that!
RS: Me too! I'm really enjoying this interview!
NE: Praise God! ...Now, you are an attorney, a wife, a mother, and minister. What encouragement do you offer to women who, like yourself, wear multiple hats?
RS: First, I would say get in the presence of God. You have to recognize how important it is to spend as much time as possible in the presence of God. Because, when you get in the presence of God, especially at the beginning of your day, God will set the agenda and you will know what to do. I'm reminded of the time Jesus fed over five thousand people with two fishes and five loaves of bread. When Jesus saw the multitude and the crowd and that they were hungry, Jesus asked Philip where they could buy bread for the people to eat. However, the Bible declares that Jesus knew what He would do. He knew what He would do because He had spent time in the presence of God. When we spend time in His presence, God will establish our priorities and give us solutions. God will even cause our problems to melt away. In the book of Psalms, it says the mountains melt like wax in the presence of the Lord [Psalm 97:5 NIV]. If God gives you multiple tasks, He will provide the grace for you to accomplish them.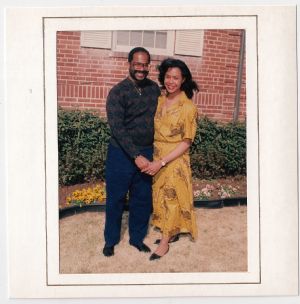 Truly God has done just that in the life of Rev. Steele. He has given her grace to enjoy many spectacular achievements. She became the first black female partner in the international law firm of McKenna & Cuneo, LLP. In addition, Rev. Steele helped found the law firm of Davis & Steele, PLLC, where she practices in the areas of corporate law, government contract law, and labor and employment law.
Rev. Steele has received numerous honors and awards including: the Black Woman of Courage Award for Corporate/Legal Achievement from the National Federation of Black Women Business Owners; Phenomenal Woman of the Year Award from Sisters Enhancing Sisters; and Ministers' Showcase Award from Radio One - WYCB 1340 AM in Washington, DC.
Through Triumphant Living Seminars, radio and TV broadcasts, the Internet, audio-video recordings, and the printed page, Rev. Steele's refreshing presentation of the Gospel has inspired many to enter into a personal relationship with the Lord Jesus Christ and to receive healing and deliverance. She remains unrelentingly committed to fulfill her mission and call - to help others experience total transformation and total triumph in Christ.
Rev. Steele is married to the esteemed Eric Steele, J.D., and they have two precious children.
NE: In closing, what do you want people to know about Rev. Janice Davis Steele?
RS: I Want them to know that according to I Corinthians 15:10, "I am what I am by the grace of God."