Karen Bethea
DISCLAIMER: PreachingWoman.com does not recommend, accept, or affirm ministry opportunities for the speakers listed in our speaker's bureau. Each speaker listed administrates and facilitates their own ministry opportunities. Please contact their ministry or website directly for more informtion or for booking purposes. PreachingWoman.com only administrates and endorses events sponsored by BreakForth Ministries and Consulting, Inc., parent Organization of PreachingWoman.com. When contacting any speaker in our bureau, please be prepared to provide references and credible history regarding your ministry opportunity.

DOWNLOAD SPEAKER'S BUREAU APPLICATION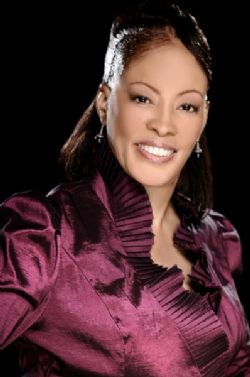 Contact Information:
Born May 3, 1959, Pastor Karen Stanley Bethea is a Wife, Mother, Pastor, Teacher, Psalmist, Recording Artist, Apostle and Author who is known for the deliverance mantle on her life. Under her anointed teaching and preaching, many people have been set free from past addictions, pains, wounds, lifestyles and brought into a spiritual and wholesome lifestyle. Pastor Bethea firmly believes that "she can do all things through Christ which strengthens her!" Her eagle mentality is contagious to those around her.
Pastor Bethea gave her life to the Lord at the early age of 15 and began preaching at the tender age of 17. She is a graduate of Belmont Elementary, Calverton Middle School, Western High School, Coppin State College/Coppin State University, the Maranatha School of Ministry and, Saint Mary's Seminary and University. She has a Doctorate of Divinity honoris causa from Saint Thomas Christian College. She is currently pursuing another Doctorate at the Graduate Theological Foundation, (http://www.gtfeducation.org/).
She is a member of Delta Sigma Theta Sorority Incorporated-Baltimore Alumnae Chapter, the National Association of Female Executives, the International Association of Women Ministers, and the Foundation Board at Coppin State University. She was initially ordained in June of 1988 and has taught and preached the Word of God extensively at Seminars, Conferences, Revivals, Workshops and Meetings throughout the United States, Bermuda, and Canada.
Perhaps her greatest challenge came in April 1997 when God called her to the pastorate. After three years of preparation, the church opened on April 9, 2000. Set the Captives Free Outreach Center, which has grown to over 2,000 members, is a center for healing and an incubator to discover and birth destinies. Under her leadership, Set the Captives Free has successfully launched "Flow of the Spirit Records," a studio and recording company, Mays-Woodson Christian Academy for students Pre-K through 2nd grades, "Liberty," a fast-paced, exciting local and international television broadcast, a food pantry and feeding program to the homeless, and over thirty other ministry programs and outreaches. She is the author of Foundational Steps, an interactive Bible-based children's church curriculum through which children ages 2-14 learn Bible doctrine in a systematic manner.
Pastor Bethea was re-ordained at the Potter's House on October 12, 2002. She is a member of PHIPA (The Potter's House International Pastor's Alliance) and is under the covering of her spiritual father Bishop T.D. Jakes of Dallas, Texas. Pastor Bethea serves as the apostolic covering and mentor for several churches and ministries in the United States and Bermuda.
In addition to being a minister, she is a wife and mother. She is married to Pastor Linwood E. Bethea. They have three beautiful children: Tonyette L., Min. Tiffany Love, and Lenwood "Jamaal" Bethea, two beautiful children in law, Min. Glenn Love and Mrs. Lawren Bethea, and one grandson Bryson. As of February 14, 2009, they have been married for 28 years