Prophetess Kelly Crews
DISCLAIMER: PreachingWoman.com does not recommend, accept, or affirm ministry opportunities for the speakers listed in our speaker's bureau. Each speaker listed administrates and facilitates their own ministry opportunities. Please contact their ministry or website directly for more informtion or for booking purposes. PreachingWoman.com only administrates and endorses events sponsored by BreakForth Ministries and Consulting, Inc., parent Organization of PreachingWoman.com. When contacting any speaker in our bureau, please be prepared to provide references and credible history regarding your ministry opportunity.

DOWNLOAD SPEAKER'S BUREAU APPLICATION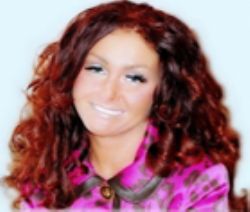 Contact Information:
Kelly Crews Ministries
P.O. Box 46265
Bedford, OH 44146
Ph: 1-877-278-5975
Prophetess Kelly Crews' passion is to glorify God in all she says and does. She exemplifies the statement, "Lord, I'm available to you." She is a Servant, Mother, Prophetess, Author and Psalmist. God has anointed and appointed Kelly for such a time as this and she will go wherever the Lord calls her to go.
In 2003, the Lord began to open doors for her to speak prophetically and she has never looked back.
Prophetess Kelly travels all over the nation preaching, teaching, singing and prophesying. Prophetess Kelly attended the "School of the Prophets," under the teaching of Dr. Bill Hamon expounded through Bishop Joey Johnson, Pastor of the House of the Lord, in Akron, Ohio. She truly walks in an Isaiah 61 anointing to bind up the broken-hearted, set the captives free, and edify the Body of Christ as a whole.

Prophetess Kelly Crews is a proud Member of Victory Temple, Akron, OH. She is covered by her great Pastor Donte L. Thompson. Prophetess Kelly was ordained by Pastor D.L. Thompson. Pastor Ronald Ixaac Hubbard and Pastor Erik and Lady Amber Howard have been definitively instrumental to Prophetess Kelly and the building of her ministry.

Prophetess Kelly Crews has taken all the limits off of God. God has qualified her and set her apart for such a time as this. She continually gives God glory and says, "Lord, please don't ever take your Spirit from me, for I am nothing without you!"