Teresa Hairston
DISCLAIMER: PreachingWoman.com does not recommend, accept, or affirm ministry opportunities for the speakers listed in our speaker's bureau. Each speaker listed administrates and facilitates their own ministry opportunities. Please contact their ministry or website directly for more informtion or for booking purposes. PreachingWoman.com only administrates and endorses events sponsored by BreakForth Ministries and Consulting, Inc., parent Organization of PreachingWoman.com. When contacting any speaker in our bureau, please be prepared to provide references and credible history regarding your ministry opportunity.

DOWNLOAD SPEAKER'S BUREAU APPLICATION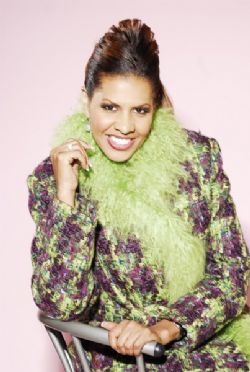 You may know her as the founder and publisher of Gospel Today and Gospel Industry Today Magazines or as the host of the Gospel Today TV Show (which airs weekly on the Word TV network via DirecTV); or, maybe you've heard her weekly "Gospel Today Update" show on the ABC Radio Network or "The Light" Radio Network. What you may not know about Teresa Hairston, however, is that back in 1989, as a divorced mother of three small children, all she was able to scrape together to invest in her "dream" of becoming a publisher was $300. That's it. She had $300, three small children, no husband and a dream.

Hairston was working two jobs and was still barely able to make ends meet. She was a Christian and a faithful church musician, but she had no experience in the area of publishing; neither did she have any financial backing; but she had faith. So, in November 1989, she started a four-page newsletter called the Gospel SCORE. The first issue, which focused on Gospel Music, didn't look any better than a Sunday-morning church bulletin.

With no investors, no background and no plan, within six months Hairston was struggling to pay her personal and professional bills and was unable to move forward. She wanted to quit and simply acknowledge failure, but somehow, she held on and believed and didn't give up. In fact, she decided to leap forward-turning the newsletter into a glossy magazine.

In that act of faith God proved Himself. Hairston says, "God made a way out of no way. People begin to call and find me to buy advertising. In one month, I was able to raise the capital to pay my past bills and move forward."

Another door opened, and in 1991, Hairston relocated her family from New York to Nashville, where Gospel music was thriving and the cost of living was much more moderate. For the next five years, the magazine grew and gained support from across the country. The dream had become a reality. In 1992, Hairston launched another publication, SCOREBOARD, a Gospel music industry trade publication, as a companion piece to SCORE. In 1993, as the magazines continued to grow, Hairston took the plunge, quit her job and went full-time with the magazines. There were still a lot of bumps on the road to success, however, Hairston was committed to the journey.

In 1995, Hairston changed the name of the magazines. SCORE became Gospel Today and SCOREBOARD became Gospel Industry Today. Gospel Today's content expanded from music and ministry to all aspects of Christian lifestyle. GT's cover stories focused on principles and profiles of success encompassing business, entertainment, sports and politics; featuring interviews with Denzel Washington, Whitney Houston, Billy Blanks, Evander Holyfield, Jesse Jackson, Al Sharpton, Johnnie Cochran and more.

GT became a fixture among progressive ministries and Christians who wanted inspiring reading material. The magazine became the official publication for a host of leading Christian organizations, and published "special issues" and souvenir journals for organizations: Full Gospel Baptist Fellowship, Woman! Thou Art Loosed, Gospel Music Workshop of America and several top grossing Gospel music tours.

Hairston maintained her strong connection with her musical roots. In 1996, after a successful Gospel Today anniversary celebration, Hairston founded The Gospel Heritage Foundation, a non-profit organization that plans to launch the world's first International Gospel Heritage Center, a place that will house the Gospel legacy and teach visitors about the Gospel Heritage. Another goal of GHF is to teach aspiring Gospel artisans about the Gospel industry and encourage them toward success. This is currently being done through GHF's annual "Praise & Worship Conference" which has been held in Atlanta the past two years.

This Conference has quickly gained momentum as the top national Conference of its type. In September of 2002, Hairston relocated the headquarters of Gospel Today and GHF to Atlanta. She says the move was divinely inspired. That same year, Gospel Today co-ventured with Verity Records to produce a nationally-distributed CD, Praise & Worship '02 featuring the Gospel Heritage Mass Choir. The project has garnered record play across the country. The next CD, "Praise & Worship…Volume 2" released in February 2004 featuring leading artists: Vickie Winans, Pastor Donnie McClurkin, Pastor Marvin Sapp, Tonex, Elder William Murphy and others.

Hairston is a minister of the Gospel and has presented at Woman! Thou Art Loosed, the National Convention of Choirs and Choruses, and many other settings. Her motto is: "When God gives you a vision, He'll make the provision!" Her favorite scripture is Romans 8:28: "And we know that all things work together for good, to those who love God, to those who the called according to His purpose."

She says, "My goal in life is to use everything that I've been through, everything that I am and everything that I endeavor to do to glorify God and build His Kingdom. I want to help people understand that they can achieve their God-inspired visions. They just need a little faith, and God will make the way."