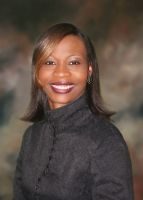 Marketing Your Ministry
By Dr. Debora C. Hooper
Hallelujah, the New Year is here! Praise the Lord ladies and welcome to 2008! I'm sure you've already heard that 8 is the number for new beginnings and that it's "Going to Be Great In 2008"! Certainly I agree and I am excited about the thought of winning new souls, having new preaching engagements, writing fresh articles, traveling and meeting new people, and yes, soon embracing the warm weather. Having said, I believe God is going to do some tremendous things for us and I'd like to make sure we are prepared to receive His blessings.
In this first issue for 2008, I wanted to share with you the importance of how we as ministers must present ourselves professionally in terms of marketing our ministry. Since this can be quite a broad subject, the discussion will be narrowed down to two particular areas: pictures and business cards.
Pictures
For starters, everyone, and I mean everyone, loves a good picture! As a matter of fact, there's a universal saying that "a picture is worth a thousand words". Thus, it behooves us to take a good one. Taking a picture to market your ministry is much, much different from taking a casual one with family and friends. While there is no consideration given concerning background or attire for the latter, there is when it comes to having a professional photo for the former. Since first impressions do count, and you don't know who will see your picture and desire your ministry, don't mess it up! What do I mean? Avoid taking your ministry photo standing near a bouquet of flowers, in front of an ocean, or with Mickey at Disney World. You might think this is funny and that it doesn't happen, but you'll be surprised! Remember, the picture is about you, not anything else. In addition, go conservative in your pictures. Skip the short skirt with a split, low-cut blouse, and any garment with loud colors. Also, don't over accessorize with your jewelry or use excessive makeup; less is best. Now, if you are one of those ladies that honestly don't do well with make up, hire a professional make up artist to go with you to give you that polished (matte) look; you'll appreciate it later.
As forestated, ministers should strive to be professional as possible in every area when marketing their ministry, so although your cousin or friend is good on the camera, this is the time that you definitely need an expert. Having one will ensure that when you proof your pictures, you are pleased with the work instead of wondering why part of your head is chopped off, one eye is open while the other is closed, and your pose is horribly incorrect! If you want to pull off the best and most polished picture possible and leave a lasting, memorable impression among clients, consider these brief pointers:
1. Professional Photographer - at all costs, make sure they are indeed professional. To avoid scammers, ask to see previous photos to evaluate their work. When you do secure a professional photographer, he or she will prepare the right background and lighting for the picture, and suggest various poses (head shots and full length) as well as the proper attire. (Bring several clothes to change in including your clergy attire.) Of course these photographers may be a bit costly, but you do want to demonstrate that your ministry is worth the investment and that it is a professional one. In addition, the reward is priceless since you can proudly use these photos over and over again for media outlets, book covers, websites, promotional items, family albums, etc.
2. Photo Enhancement - Have you ever wondered how the stars always look so beautiful in those magazines? Well, here's the secret: photo enhancement. These services are an excellent source when you need to have your photos "touched up" a bit for a clean, professional look. For example, when you send them your picture, they can take it and do things like: whiten or close gaps on your teeth, remove unwanted blemishes or make your skin look naturally porcelain. For those of you who need fast and economical service, try my friends at www.e-retouch.com. (See my picture above for an example of their work.) And yes, you can say I sent you!
Once your photos are ready, wisely make your selection and ask the photographer to put them on a DVD. (Today, this is a standard with photographers.) Immediately afterwards, load them on your computer for safekeeping in case you lose the DVD. Now you are ready to market your ministry to the world! But here's one last tip. When requested, you will most likely send your photo out along with your biography, if you do this via email, you'll save trips to the post office and money too!
Business Cards
One of the things you might want to do with your professional ministry photo is include it on your business card. A business card is strictly about business and is not designed to disclose any personal information. Thus, it should be simple, to the point, and used solely for the purpose of someone contacting you for ministry purposes. For a business card to appear professional and polished, here are some factors to consider:
1. Information - it should include your name, address (preferably a p.o. box), telephone number, email and website address and as forestated, your picture, if you desire.
2. Layout - the print size should be legible (10-12 pitch) and easy on the eye. To stay conservative, use black lettering and avoid using color ink. If you are going to use a graphic to enhance your business cards, use it softly in the background so that it does not overpower your ministry information making it difficult to read.
3. Photos - assuming you have taken professional photos, the images should come out quite sharp on your business cards. However, make sure the picture is positioned correctly on the card and does not overpower the rest of the information. Normally for business cards, a clean head shot is used (pictures taken from the chest up).
Like most of you, for years I produced my own business cards right out of my computer; mainly to save money.

Thank God for Avery and Staples!

Now, however, I use a professional graphic artist to design my business cards (and all my other work) to keep my image fresh, up-to-date, and as professional as possible.

Moreover, I must say, the presentation is exceptional!

The feedback I get from them is great and most of all, I have begun to realize how much it says about me before any ministry business is transacted.

Notice the examples below of what my business cards look like, front and back: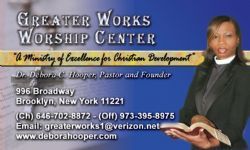 Of course, after I approve the work done by the graphic artist, I must have the cards printed.

If you are strapped for cash and this has been a dilemma for you, consider using this cost-effective service I found on the internet.

At

www.clubflyers.com

they will print 1,000 business cards, front and back and in color, UV coated and on 14 pt. cardstock paper for $35!

How long does this take - just 48 hours.

Try them, and upgrade your image!
Well, we'll have to pause here until next month's issue, but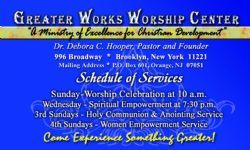 certainly I look forward to hearing what the Lord is doing in your ministry since you've enhanced it. Be encouraged and remember, excellence is key in marketing your ministry, so use it and don't settle for anything less because you're getting prepared for something great in 2008! Blessings.
**Excerpts of this article have been taken from Hooper's Evangelist & Minister's Handbook.
For further information regarding Dr. Hooper's graphic artist email her at jackiedesk@aol.com